Good news: many insurers across the U.S. will be issuing medical loss ratio rebates to consumers this fall.
Medical loss ratio
The reason these rebates will be given is the Affordable Care Act's medical loss ratio (MLR) threshold rule: that 80 percent of revenue from premiums must go toward health care claims or quality improvement. The remaining 20 percent can be spent on marketing, administration, and profit.
The Kaiser Family Foundation estimates that insurers will give out rebates of $1.3 billion across all markets. The profitability of insurers in 2018 is largely driving these high rebates. In the individual market, the rebates will be an average of $270 per person.
Rebates for 2019 are based on an average of the insurance company's financial data from 2016, 2017, and 2018. The states with the largest rebates are Virginia with $149.6 million, Pennsylvania with $130 million, and Florida with $107.4 million.
The insurance companies that will be issuing the most rebates are Centene ($216.9 million across seven states), followed by HCSC, Cigna, and Highmark.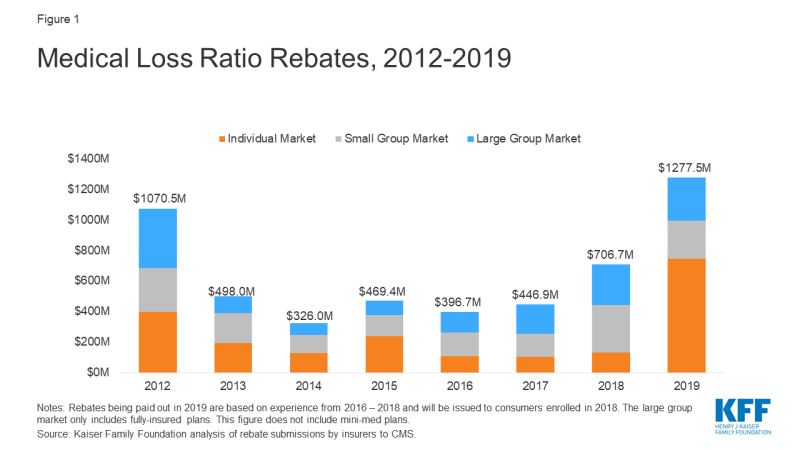 How refunds will be paid
If your 2018 plan was eligible, your insurance company will issue a rebate in the form of a premium credit or a check payment. For people with employer coverage, the rebate will be split between the employer and employee. Contact your employer for more information on whether you'll receive any rebate.
Your insurance company has until September 30 to begin sending out rebates. Since insurers overall are also performing well financially in 2019, it's likely that many will be issuing rebates next fall as well.